Back to Workshops
SOLVAY WORKSHOP ON
"Nucleation: multiple pathways multiple outcomes"
Brussels, December 7 - 9 , 2022
(ULB - Campus Plaine - Solvay Room)
The workshop aims to be a forum for lively exchange of ideas between chemists and physicists, experimentalists and theorists in pursuit of fundamental understanding of classical and non-classical crystallization, polymorphism, crystal structure selection, and other related topics. 
Dwaipayan Chakrabarti (U. of Birmingham, U.K.)
Aurora Cruz-Cabeza (Durham U., UK)
Robin Debuysschère (ULB, Brussels, Belgium)

James de Yoreo (PNNL, Washington, USA)   
Yves Geerts (ULB, Brussels, Belgium)

Jerry Heng (Imperial College London, UK)

Bart Kahr (New York U., USA)             

Fiona Meldrum (U. of Leeds, UK)   
Jianwei Miao (UCLA, Los Angeles, USA)
Sally Price (UCL, London, UK)
Susan Reutzel Edens (Cambridge Crystallographic Data Centre, UK) 
Jeffrey Rimer (U. of Houston, USA)           
Frank Schreiber (U. Tübingen, Germany)
Joop Ter Horst (U. de Rouen Normandie, France)
Peter Tompa (VIB-VUB, Brussels, Belgium)
Chantal Valeriani (UCM, Madrid, Spain)       
Scientific and Organising Committee
Tom Leyssens (UCLouvain, Belgium)
Jim Lutsko (ULB, Brussels, Belgium)
Dominique Maes (VUB, Brussels, Belgium)
Peter Vekilov (U. of Houston, USA)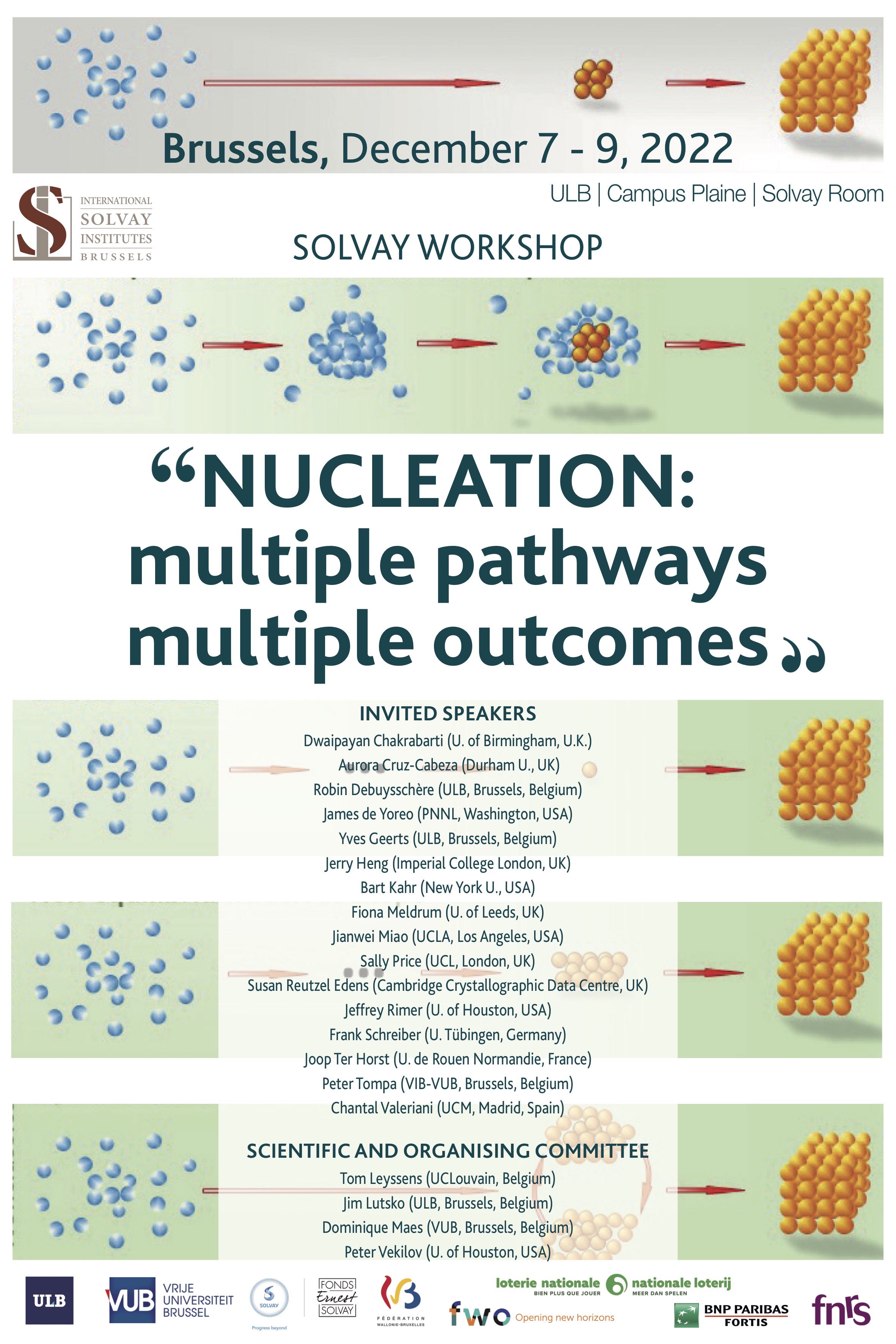 Practical information for attendees
Fee and registration
Attendance is free of charge but registration is required (limited space).
November 28, 2022 is the deadline for registration.
REGISTRATION IS NOW CLOSED (We have reached full capacity).
After registering you should receive an automatic response confirming that your registration has been submitted.
This message is then followed by an email confirming your participation.
Name badges will be distributed on site on Wednesday 7 December 2022 from 09:00 a.m.
Poster session
A poster session will be organized on Wednesday 7 December, poster presentation from attendees is strongly encouraged.

If you wish to apply, please send a title and a short abstract (maximum 500 words including references)
to Isabelle Van Geet by email at isabelle.vangeet@solvayinstitutes.be, by November 21, 2022.
Notifications regarding the status of your abstract will be sent once the review process is complete. 

Please use a Word document format using the template below
Location
The workshop will be held at ULB - Campus Plaine - Boulevard de la Plaine - 1050 Bruxelles
Quartier Jaune - Building N.O - 5th Floor (SOLVAY Room) Click HERE for the map of the Campus.
Banquet
A banquet will be held on Thursday 8 December at 7:30 p.m.
For those who wish to attend, there will be a 50 Euro banquet fee to be paid cash on the first day of the workshop.
An email with the banquet registration details will be sent to all participants in November.

Getting here
Metro line 5 (direction "Hermann Debroux") - Station "Delta". Delta is the metro station on the campus.
Click HERE for the map of the metro.
For more information about public transport in Brussels go to the STIB's website.
If you come by car, please click HERE for directions.
Travel and accommodation
Attendees will have to arrange and pay for their own travel, accommodation, and subsistence costs.
Please see below links that might help you find accommodation in Brussels.
Brussels City Center:
Hôtel Atlas - Sleep Well - Bed & Brussels - Booking.com - Hotel Saint-Nicolas
Hotel Queen Anne - Hotel Bloom - Max Hotel - Plaza Hotel
Hotels close to the venue:
Hotel Brussels: 3.6 km (25 minutes walk - tram number 8: 20 minutes)
Hotel Barsey by Warwick: 3,8 km (28 minutes walk - tram number 8: 21 minutes)
Hotel Ibis Styles Hotel Brussels Louise: 3.6 km (25 minutes walk - tram number 8: 20 minutes)
Hotel Capital: 3.3 km (19 minutes walk - tram number 8: 16 minutes)
***For any enquiries, please contact Isabelle Van Geet (isabelle.vangeet@solvayinstitutes.be)