Back to Workshops
Solvay Workshop "New ways to do chemistry
Emerging technologies for synthetic methodology"
Brussels, 24 - 26 April 2023 - ULB - Campus Plaine
(Quartier Jaune - Building N.O. - 5th Floor - Solvay room )
In the spirit of Ernest Solvay, the Solvay Institutes invite world leading scientists in the field of synthetic methodologies that is currently undergoing a revolution thanks to emerging chemical technologies. Five sessions are foreseen:
SESSION 1: AI-assisted synthesis
SESSION 2: Photo/electrochem Electron transfer
SESSION 3: Automated synthesis, robotics
SESSION 4: High throughput/flow, microfluidics
SESSION 5: Theory, data analysis/predictive reaction development
Invited Speakers
Registation closed
Click here to view the program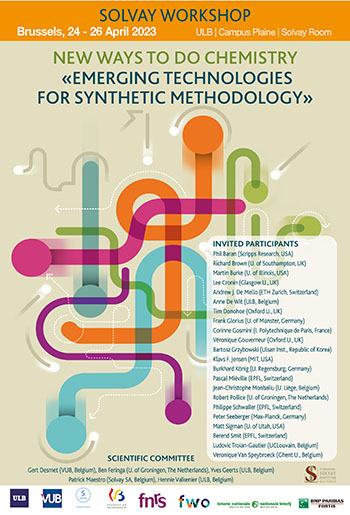 Phil Baran (Scripps Research, USA)
Richard Brown (U. of Southampton, UK)
Martin Burke (U. of Illinois, USA)
Lee Cronin (Glasgow U., UK)
Amandine Cuenca (Solvay SA, France)
Andrew J. De Mello (ETH Zurich, Switzerland)
Anne De Wit (ULB, Belgium)
Tim Donohoe (Oxford U., UK)
Frank Glorius (U. of Münster, Germany)
Corinne Gosmini (I. Polytechnique de Paris, France)
Véronique Gouverneur (Oxford U., UK)   
Bartosz Grzybowski (Ulsan Inst., Republic of Korea)
Klavs F. Jensen (MIT, USA)
Burkhard König (U. Regensburg, Germany)
Pascal Miéville (EPFL, Switzerland)
Jean-Christophe Monbaliu (U. Liège, Belgium)
Robert Pollice (U. of Groningen, The Netherlands)
Philippe Schwaller (EPFL, Switzerland)
Peter Seeberger (Max-Planck, Germany)
Matt Sigman (U. of Utah, USA)
Berend Smit (EPFL, Switzerland)
Ludovic Troian-Gautier (UCLouvain, Belgium)
Veronique Van Speybroeck (Ghent U., Belgium)
Scientific and Organising Committee
Gert Desmet (VUB, Belgium)
Ben Feringa (U. of Groningen, The Netherlands)
Yves Geerts (ULB, Belgium)
Patrick Maestro (Solvay SA, Belgium)
Hennie Valkenier (ULB, Belgium)
Practical information for attendees
Fee and registration
The registration is now closed as we have reached the maximum capacity of the room.
Name badges will be distributed on site on Monday 24 April 2023 from 09:30 a.m.
Poster session
A poster session will be organized on Monday 24 April, poster presentation from attendees is strongly encouraged.

If you wish to apply, please send a title and a short abstract (maximum 500 words including references)
to Isabelle Van Geet by email at isabelle.vangeet@solvayinstitutes.be, by 10 April 2023.
Notifications regarding the status of your abstract will be sent once the review process is complete. 


Please use a Word document format using the template below
Size of poster board: 114cm x114cm (suitable for A0 and A1 portrait poster)
Location
The workshop will be held at ULB (Université Libre de Bruxelles) - Campus Plaine - Bld de la Plaine
1050 Brussels (Quartier Jaune - Building N.O. - 5th Floor - Solvay room). Click HERE for the map of the Campus.
Banquet
A banquet will be held on Tuesday 25 April at 7:30 p.m.
For those who wish to attend, there will be a 50 Euro banquet fee to be paid cash on the first day of the workshop.
An email with the banquet registration details will be sent to all participants in April.

Getting here
Metro line 5 (direction "Hermann Debroux") - Station "Delta". Delta is the metro station on the campus.
Click HERE for the map of the metro.
For more information about public transport in Brussels go to the STIB's website.
MORE INFORMATION ON REACHING CAMPUS PLAINE
Travel and accommodation
Attendees will have to arrange and pay for their own travel, accommodation, and subsistence costs.
Please see below links that might help you find accommodation in Brussels.
Brussels City Center:
Hôtel Atlas - Sleep Well - Bed & Brussels - Booking.com - Hotel Saint-Nicolas
Hotel Queen Anne - Hotel Bloom - Max Hotel - Metropole Hotel - Plaza Hotel
Hotels close to the venue:
U-Residence: 1.2 km (12 minutes walk - tram number 25: 8 minutes)
Hotel Brussels: 3.6 km (25 minutes walk - tram number 8: 20 minutes)
Hotel Barsey by Warwick: 3,8 km (28 minutes walk - tram number 8: 21 minutes)
Hotel Ibis Styles Hotel Brussels Louise: 3.6 km (25 minutes walk - tram number 8: 20 minutes)
Hotel Capital: 3.3 km (19 minutes walk - tram number 8: 16 minutes)
For any enquiries, please contact Isabelle Van Geet (isabelle.vangeet@solvayinstitutes.be)