Back to Workshops
Workshop on "Dissipative solitons and optical
frequency comb generation"
Brussels, 15 - 16 September 2021 (ULB - Campus Plaine)
Due to the pandemic crisis, this meeting will be limited to researchers from nearby countries (France, Germany, Spain, UK), who should be able to travel.
Optical frequency combs generated by optical resonators have revolutionized many fields of science and technology, such as high-precision spectroscopy, metrology, and photonic analog-to-digital conversion. A particular interest is paid to the soliton frequency combs associated with the formation in the time domain of the so-called temporal dissipative solitons.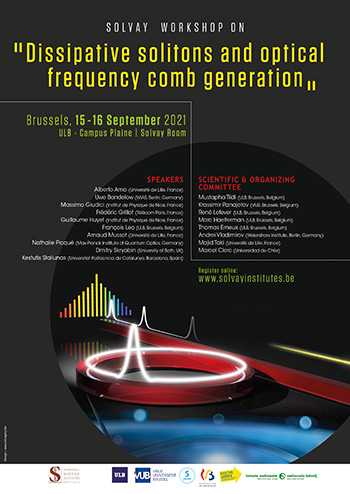 Invited Speakers
Alberto Amo (Université de Lille, France)
Uwe Bandelow (WIAS, Berlin, Germany)
Massimo Giudici (Institut de Physique de Nice, France)
Frédéric Grillot (Télécom Paris, France)
Guillaume Huyet (Institut de Physique de Nice, France)
François Leo (ULB, Brussels, Belgium)
Arnaud Mussot (Université de Lille, France)
Nathalie Picqué (Max-Planck Institute of Quantum Optics, Germany)
Dmitry Skryabin (University of Bath, UK)
Kestutis Staliunas (U. Politecnica de Catalunya, Barcelona, Spain)
Scientific and Organising Committee
Mustapha Tlidi (ULB, Brussels, Belgium)
Krassimir Panajotov (VUB, Brussels, Belgium)
René Lefever (ULB, Brussels, Belgium)
Marc Haelterman (ULB, Brussels, Belgium)
Thomas Erneux (ULB, Brussels, Belgium)
Andrei Vladimirov (Weierstrass Institute, Berlin, Germany)
Majid Taki (Université de Lille, France)
Marcel Clerc (Universidad de Chile)
Practical information for attendees
Registration
Attendance is free of charge but registration is required (limited space).
To register, please click on 'Click HERE to register' at the top right of the webpage.
September 10, 2021 is the deadline for registration.
After registering you should receive an automatic response confirming that your registration has been submitted.
This message is then followed by an email confirming your participation.
Name badges and WIFI codes will be distributed on site on Wednesday 15 September from 09:45 a.m.
For any enquiries, please contact Isabelle Van Geet (isabelle.vangeet@solvayinstitutes.be)
Location
The workshop will be held at ULB (Université Libre de Bruxelles) - Campus Plaine - Bld de la Plaine
1050 Brussels (Building N.O. - 5th Floor - Solvay Room). Click HERE for the map of the Campus.
Banquet
A banquet will be held on Wednesday 15 September at 7:00 p.m.
For those who wish to attend, there will be a 50 Euro banquet fee to be paid cash on the first day of the workshop.
An email with the banquet registration details will be sent to all participants in September.

Getting here
Metro line 5 (direction "Hermann Debroux") - Station "Delta". Delta is the metro station on the campus.
Click HERE for the map of the metro.
For more information about public transport in Brussels go to the STIB's website.
If you come by car, please click HERE for directions.
Travel and accommodation
Attendees will have to arrange and pay for their own travel, accommodation, and subsistence costs.
Please see below links that might help you find accommodation in Brussels.
Brussels City Center:
Hôtel Atlas - Sleep Well - Bed & Brussels - Booking.com - Hotel Saint-Nicolas
Hotel Queen Anne - Hotel Bloom - Max Hotel - Metropole Hotel - Plaza Hotel
Hotels close to the venue:
U-Residence: 1.2 km (12 minutes walk - tram number 25: 8 minutes)
Hotel Brussels: 3.6 km (25 minutes walk - tram number 8: 20 minutes)
Hotel Barsey by Warwick: 3,8 km (28 minutes walk - tram number 8: 21 minutes)
Hotel Ibis Styles Hotel Brussels Louise: 3.6 km (25 minutes walk - tram number 8: 20 minutes)
Hotel Capital: 3.3 km (19 minutes walk - tram number 8: 16 minutes)
***For any enquiries, please contact Isabelle Van Geet (isabelle.vangeet@solvayinstitutes.be)