2019 Solvay Public Lectures - 20 October 2019
The International Solvay Institutes are pleased to announce the organization of their annual
public lectures on Sunday 20 October 2019 afternoon at Flagey.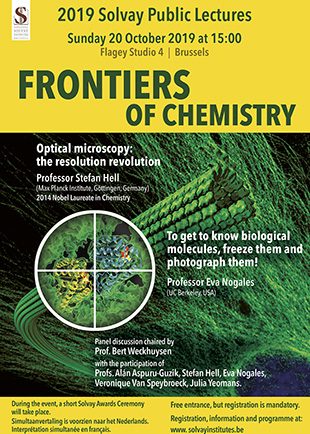 Registration
- Free entrance but registration is mandatory.
- Following the submission of your registration, you will receive an automated email.
- A second email confirming your participation will be sent to you few days later.
- Please indicate clearly your address as ticket(s) will be mailed to you by post.
- Registration closes on 18 October at 5.00 p.m.
Date and time
- Sunday 20 October 2019 at 15:00 (Doors open at 14:30).
Location
- Flagey Studio 4, Place Sainte-Croix, 1050 Brussels.
(The parking area is located below the Place Flagey).
Language
- English - translation in both French and Dutch will be provided.
PROGRAMME
Moderator: Prof. Franklin Lambert
(VUB & International Solvay Institutes)
15:00 - 15:05: Opening by Prof. Marc Henneaux
(ULB & International Solvay Institutes)
15:05 - 15:30: Solvay Awards ceremony: during this short Award Ceremony,
brilliant students in physics, chemistry and engineering at the ULB and the
VUB who had been distinguished for their work will receive an award
from the Solvay Company.
15:30 - 16:15: Talk by Professor Stefan Hell
(2014 Nobel Laureate in Chemistry)
Optical microscopy: the resolution revolution
16:15 - 16:20: Question session
16:20 - 17:05: Talk by Professor Eva Nogales

To get to know biological molecules, freeze them and photograph them!
17:05 - 17:10: Question session
17:10 - 17:55: Panel discussion chaired by Prof. Bert Weckhuysen and with the participation of
Profs. Stefan Hell, Eva Nogales, Veronique Van Speybroeck, Julia Yeomans
17:55 - 18:00: Closing by Prof. Marc Henneaux
(ULB & International Solvay Institutes)
18:00 - 18:30: Drink
Speakers
Professor Stefan Hell (2014 Nobel Laureate in Chemistry)